During a big crypto selloff on March 12, someone placed a huge market sell order on Binance for LINK
The market sell was more than the entire USDT order book at the time, which temporarily crashed the LINK price to 0.0001 USDT
A user had managed to create a buy order for over 900,000 LINK at this price, which got filled
So, for just $90, this user managed to pick up over $2 million of LINK
March 12 2020 saw a huge selloff of cryptocurrencies across the board, with many falling by more than 50% relative to USD ($).
At some point during this bloodbath, a Binance user decided to market sell a huge amount of Chainlink (LINK). This market sell was so huge that it ate through every buy order for the Tether stablecoin (USDT) pair, crashing the LINK price to 0.0001 USDT (i.e. $0.0001).
Changpeng Zhao (CZ), CEO of Binance, said this of the event:
"…this single market sell punched through the buy orders. No other pairs were affected. Futures and Margin are not affected either. Arbitrage traders quickly filled the gap, and all the guys who had low buys made money."
This happens surprisingly often in crypto, like when a market sell crashed the Ethereum (ETH) price to $0.10 back in June 2017.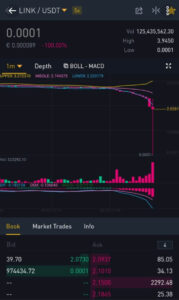 As the market sell ate through the order book, it filled buy orders all the way down to 0.0001 USDT. Some lucky Binance user managed to create a buy order for over 900,000 LINK at this rock bottom price. The order filled, and this person picked up 974,434 LINK for a total of around 90 USDT.
I know what you're thinking, and I tried to do exactly the same thing when I saw this. But Binance has measures in place to prevent this sort of thing from happening. After similar incidents in the past, Binance added restrictions that prevent users from placing buy orders worth less than 20% of the current price (and sell orders greater than 5 times the current price).
However, according to CZ, the user in question managed to place their 0.0001 USDT order before these restrictions were added:
"Just checked, the buy order was put in 2019-01-16, the first day the LINK/USDT pair was added. We didn't have the price band restrictions back then. We don't cancel user orders."
After this mistake, the LINK/USDT pair quickly recovered to its normal (relatively so – price action on this day was pretty wild already) price of around 2 USDT ($2) per LINK and higher.
Anyway, the whole episode meant some lucky person picked up a stack of LINK worth roughly $2 million for under $100. Lucky them.
---